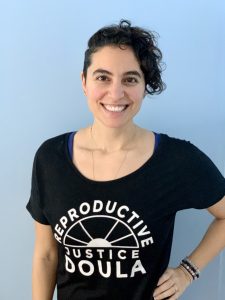 Welcome to Via Mirabella. My name is Michelle and I am a Full Spectrum doula. I am passionate about the birth process and making birth inclusive for everyone. I seeks to support the birthing person as well as anyone else who is part of their journey. It was during my yoga teacher training in 2013 during the prenatal section that I fell in love with how the body changes during birth. Since then I have been studying and furthering my knowledge of birth and yoga. I am is extremely honored to be able to hold space for her clients and honor the process for those who are going through the pregnancy journey.
My Full Spectrum Doula Training includes being trained in, cycle awareness, birth control options, abortion, loss, and fertility- all of these done through the lense of reproductive justice. 
Michelle is also a registered yoga teacher and Reiki Master. She loves sports, her family/heritage and has a passion for learning.
Why Yoga?
"I believe that as yoga practitioners we have to remind ourselves that we don't have to have the answers. The pose doesn't have to 'look perfect'. It's about the feeling you have inside that's the most important.
Yoga ignites my inner childhood spirit. In a way, it helped me to save my life, and it helped me to overcome many demons I was battling inside. I hope that those practicing yoga receive the same joy and life it brings me." – Huffington Post 
ABOUT ME: 
Michelle is a former Division I college athlete and competitive weightlifter who always turned to yoga as a way to condition and take care of her body. A lifelong practitioner who underwent hip surgery in May 2012 Michelle realized just how transformative yoga is both physically and mentally. Michelle has 200-hr of training from both YogaWorks NYC and Midtown Athletic Club Rochester, NY. Michelle has continuing education in: Restorative (Laughing Lotus NYC), Strala Yoga intensive (Strala NYC) , Clubbell Yoga and Kids yoga (YogaEd) graduate who focuses on freedom, strength and mental transformation. Michelle brings her love of movement, strength and life into her classes through a mix of yoga philosophy, quintessential sequencing and energetic and uplifting music.
I would not be the student and teacher I am today without may hours of studying under Aimée Senise Conners, Chrissy Charter, Tara Stiles, Domenic Savino, and Susan Smelt. Your knowledge, passion, drive and guidance will always be the root of my teaching practice.
Yoga has helped connect me with my authentic self as well as unite me with so many wonderful people that I now call my yoga family. I love to share the gift of yoga and my passion for it with everyone I meet.